One of the ladies I work with recently made a couple of beautiful Log Cabin quilts and since then, I have been keen to make one myself.
I decided to make the
"
Room and Board
" pattern by
Camille @
Thimblelossoms
so
gathered some fabrics and started cutting into them.
I used a mix of Bonnie and Camille's
Ruby
and their newly released
Little Ruby
and as I started this quilt on Tuesday 26th July, named it "Ruby Tuesday".
Later on I found out that 26/7 is also
Mick Jagger's birthday and that the song
was released in 1967 which is the year I was born - just a few little happy coincidences:)
I also had some white tone on tone floral leftover from my "
Spell it With Moda
" quilt, and also enough light aqua from the "
Patchwork Swoon
" quilt to make these blocks so was able to do a bit of stash busting for this quilt!
The blocks were very simple to put together and finish at 20" square and as I had decided to make a lap sized quilt, only needed to sew 9 of them.
The quilting was done along the seam lines every 2 inches using the Serpentine stitch again - I really love how it looks with all of the straight strips of fabric in this quilt.
For the backing, I used the ever-popular Ikea Britten fabric with a little strip of the light aqua down one side to make it wide enough.
And bound the quilt in my favourite B&C scallops print in aqua which is another fabric from the original Ruby range.
This was a really quick and easy quilt to sew and would be perfect for a beginner as it is just straight piecing and there are only a few seams to match at the end.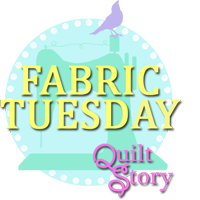 This was on my Q4 list for this year so linking up with the 2016 FAL team.