As soon as I saw the "Cakewalk" quilt pattern by Camille @ Thimbleblossoms, I knew that it would be the perfect quilt for my stash of Bonnie and Camille fabrics.
Although this pattern is written for a Layer Cake, you can also go scrappy and it is a great way to use up a variety of prints.
These blocks are fairly easy to sew and the whole quilt came together quite quickly once all of the cutting was done.
I even added in some of the pretty new "Little Ruby" fabrics.
Although the Moda black Crossweave fabric is quite hard to source here in Australia, I have found a good alternative in a charcoal shot cotton.
I have used this shot cotton a few times before (True Love pillow, Foxy Loxy Mini quilt, and Flower patch mini quilt)
and the dark colour really makes the prints stand out.
One of the nice things about B&C fabrics is that all of the ranges go really well together as they all feature the main colours of aqua and red.
I quilted this with the Serpentine stitch, and used some of the Red Dot print from Marmalade for the backing, along with the red crosshatch print from Daysail for the binding.
The area around where we live is known for its dairy industry with the local company
Norco
producing milk, butter, cheese and ice cream.
The huge butter churn where I took these photos is from the Norco buttery factory across the river which still produces dairy products.
My husband even grew up on a dairy farm supplying milk to the factory in the late 1960's - early 1970's.
I named this quilt "Butter Cake" as it is my daughters favourite cake,
and although she has recently been diagnosed with Coeliac Disease, we have found a good Gluten Free Butter cake mix which I am going to make next month for her birthday...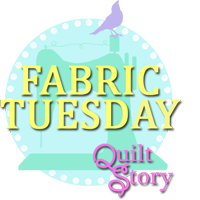 Linking up with Fabric Tuesday @
Quiltstory
.
This was on my
FAL Q3
list for this year so linking up with the 2016 FAL team.
Kirsten.