Late last year I saw on Instagram that there was a quilt-along starting using the new "Colorway" pattern by Thimbleblossoms.
This looked like a nice pattern to sew and also a good way to use up more of my stash so I joined in the sew along.
For my Colorway quilt, I used a mix a Bonnie and Camille prints (mainly Handmade and Little Ruby) along with coordinating solids and a black spot on cream print for the background.
The blocks were a bit tricky to sew as there are quite a few points to match but I think it got easier as I sewed them.
Once the 36 blocks were made, I laid them out on my design floor (aka our loungeroom floor) to check the arrangement before sewing the bl
ocks together.
This was such a fun quilt to make and I really love the new black prints in Handmade, especially with the cream and black dot background.
As
this was quite a large quilt 76 x 76", I sent it to my local quilter to have it long armed using the same Gingersnap pattern that was used on the
Canyon Patchwork Swoon quilt
for my daughters 21st birthday.
The backing is an ivory fabric with small white spots which I had in my stash, and I couldn't resist using the same B&W stripe for the binding that Camille used on her quilt.
This was on my FAL Q1 list for this year so linking up with the 2017 FAL team.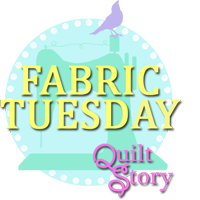 Kirsten.