I chose some prints from Tula Pink True Colours and Eden that coordinated with the dark denim Tencil that I was using for the main part of the blouse.
I used some of the Crouching Tiger print in Amethyst from Eden to feature on the back of the blouse.
This time I did a pieced yoke which was quite easy to do and I used some of the pink lawn leftover from sewing the other blouse for the facing.
The last step was to sew the hems - although I did feel like I was being watched very closely by the tiger...
I wore the blouse to Tulas trunk show and Tula was kind enough to have a photo taken with me wearing it which made my day:)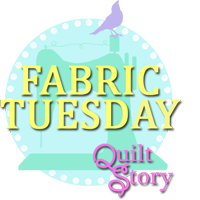 This was on my FAL Q2 list for this year so linking up with the 2016 FAL team.