When I saw the Watercolor Seahorse quilt pattern by Elaine @ Summercrafter designs, I thought that it was such a clever design and have wanted to make it ever since then.
The seahorses were fairly straightforward to piece - mainly squares and a few HST.
And I loved how the fabrics looked with the pretty aqua background.
I decided to use the serpentine stitch to do some wavy quilting across the quilt.
We went to the wharf down by the river in Ballina for some photos.
And then stopped off at The Big Prawn on the way home for another photo!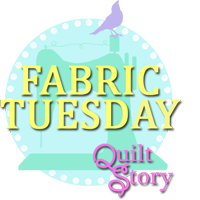 Linking up with Fabric Tuesday @ Quiltstory.
This was on my FAL Q4 list for this year so linking up with the 2016 FAL team.