Although I have quite a few projects on the go, I joined in another Quilt-along running during November...
I already had a F8 bundle of the Handmade fabric that I have been keen to use with a cute B&W dot fabric, and this seemed the perfect opportunity!
Then I happened upon a destash of a Handmade JR which suited the cutting of this particular quilt better.
The rest of the quilt is cut from my B&C stash and coordinating solids so I still have about half of the JR strips remaining to use for another project.
The print fabrics were matched with a coordinating solid
This is the test block I made
which although it isn't perfect was a lot easier to sew than what I thought it would be.
And the next one, using a scant 1/4" seam which may have helped get those pesky points lined up!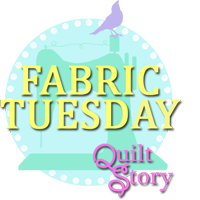 Linking up with Fabric Tuesday @ Quiltstory.