This little bag was started quite some time ago when I saw the cute Indie bag pattern by Amy @ During Quiet Time.
I used some of the beautiful Art Gallery "Indie"fabrics by Pat Bravo to make a similar version of the bag as I loved the rich colours and managed to find some lovely Perle cottons to match.
Although, I found that after starting to sew the bag I was a bit hesitant to do the hand stitching across the linen but have now done it so that I could finally finish off the bag.
I also added a slip pocket in the lining as these days I need somewhere to keep my reading glasses.
Linking up with Fabric Tuesday @ Quiltstory.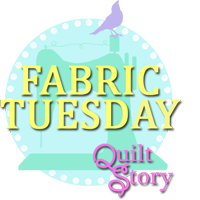 This was on my FAL Q3 list for this year so linking up with the 2016 FAL team.