A few years ago I saw the fabulous Water and Woods "Plus" quilts made by Carla @ Coraquilts for her teenage sons using Curious Nature fabric by Parson Gray (aka David Butler).
She inspired me to use the two colourways of the same fabrics to make my twin sons a quilt each for their 18th birthdays.
These fabrics were released quite a while ago now, and Parson Gray has even had a few more amazing fabric ranges out since.
The first quilt was actually started almost a year ago (50 weeks according to IG) at a quilt class
using the "Skipping Stones" pattern by Cindi McCracken.
I used the blue toned fabrics from Curious Nature by Parson Gray to make the "Ocean" quilt.
The pattern calls for a few solids so I also used a denim blue, light grey and slate coloured solid for the border.
Karen from Rainbow Patchwork here on the Northern Rivers, NSW did the long-arm quilting on both of the quilts using a similar pantograph to the one she used for my Chicopee Feathers quilt a few years ago.
After seeing how well the first quilt came together, I started another version with the earthier
green tones from Curious Nature.
This version uses a solid in "Iron" along with the same light grey from the "Ocean" quilt.
This quilt has a lighter grey backing which again shows off the quilting perfectly.
I added an extra set of blocks so used 48 rather than 36 jelly roll strips and

the quilts ended up at about 65 x 85" which is a good size to lay across a bed.
Wishing both of my boys a very happy 18th birthday!!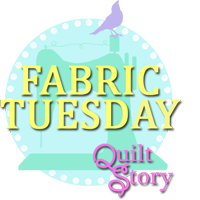 Linking up with Fabric Tuesday @
Quiltstory
.