As soon as I saw the gorgeous colours in Kate Spains new Canyon fabric, I knew that it would be just perfect to use in a quilt for my daughter.
I bought a jelly roll from my LQS and decided to make a "
Patchwork Swoon
" quilt as the original Swoon pattern is one of my all time favourite designs.
As usual, Camilles patterns go together quite easily - a combination of strip piecing and clever pressing means that most of the seams nest together neatly.
The hardest part for me was trying to get a good "random" mix of colours and patterns in each of the 16 patch blocks.
I had a slight disaster towards the end - I like to use steam for my final press and when I refilled the water it came out all brown and messy on one of the white sections in the middle of the quilt (of course!!!).
But through my tears of frustration, I was able to quickly unpick and resew another piece of white to remake the HST and stitch it all back together again.
And the next day I went out and bought a new iron...
The final borders are slightly wider on my quilt so it finished at 75" rather than the 72" in the original pattern so it will be just a little bigger for a Queen sized bed.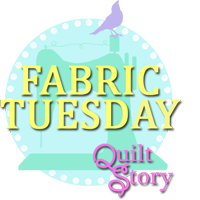 This project was on my
FAL Q3
list for this year so linking up with the 2016 FAL team.
Kirsten.