It is such an easy quilt to sew up and there are so many cute fabrics that you can use to make a quick baby quilt!
This time, I used some fun Jungle themed prints which feature monkeys, elephants, lions, crocodiles and giraffes.
I chose a minty green solid for the background and also used it for the binding.
Basting these smaller quilts is so easy too - I can do them on the dining table rather than on the floor which is so much better for my knees!
I used a printed drill for the backing to make this a bit more sturdy if used as a playmat.
And again quilted it using the Serpentine stitch along the horizontal seam lines.
I already have plans to sew another one of these quilts ...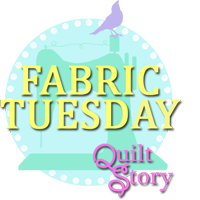 Linking up with Fabric Tuesday @ Quiltstory.
This was on my
FAL Q2 list
for this year so linking up with the 2016 FAL team.
Kirsten.