Last year I joined up for the Thimbleblossoms mini quilt swap round 2 (#tbmqs2 on IG) in which we were to use one of the many Thimbleblossoms designs to make a mini for our partner.
I was assigned to TB team Candy and when I got my partners details, I decided to make her a Swoon mini quilt as it was one of her favourites, along with floral fabrics.
The prints I chose were also from Bonnie and Camille , and as my partner also liked aqua I tried to include quite a bit of it for the mini.
For the background, I used a red on cream spot which matched in with the B&C fabrics perfectly.
The quilting was done on the diagonal with lines about 1/2" apart, and finished with a solid aqua binding
Along with the mini I also sent a fabric pouch made using a couple more Thimbleblossoms patterns - a mini Dwell and one of the spools.
And also a few extra items along with something for her little boy...
Thanks to Kristi @sugarndspice77 for organising the swap!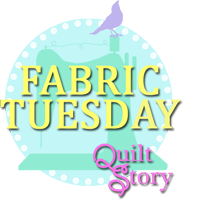 .
This was on my FAL Q1 list for this year so linking up with the 2016 FAL team
Kirsten.