February was Danielles' (Petitselefants) month to be Queen bee in our Aus Mod Bee group.
She sent out a great selection of fabrics to use and
even made up some templates for us to use which was great!.
I hadn't made these blocks before but they are really fun to sew.
So this brings us up to 12 months of making blocks for the AusMod bee . It has been a so enjoyable making such a variety of wonderful blocks for this great group.
I am still in the process of sewing together the Chicopee feathers blocks that everyone made for me back in May.
Quiltjane has photos of her finished Refractatorium quilt and Pennys Lizzy House quilt in progress is here.
There is also more in the flickr group AusModBee or on IG with the tag #ausmodbee.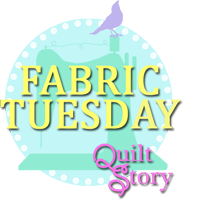 Linking to Fabric Tuesday at
Quiltstory
.
Kirsten
.