The challenge theme last month at Le Challenge was "single"
so I decided to make a "single" block using a "single" range of fabric.
I am planning on making a full size Norway quilt soon so when I saw this Norway mini made by Meredith (@mgrknits on IG) the other day I really wanted to give it a try.
I used similar fabrics to Meredith for this mini -
Elizabeth Olwens'
Wildwood fabrics
by Cloud 9 as the colours fitted the original design well.
Then quilted it in a dense cross hatch pattern with the mini finishing at almost 13".
In hindsight, I probably should have left the block just as it was here though as I have totally mucked up the borders - I did use a 1/4 inch foot on my machine so not sure where I have gone wrong but as I was
running out of time I didn't have a chance to go back and fix it:(
I only started sewing this on Saturday and inbetween
going shopping with my daughter and
watching my sons play soccer and doing some driving hours with them, I managed to finish this off on Sunday night.
Linking up
with
Le Challenge
.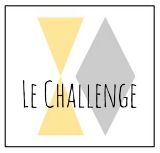 And also linking up with Fabric Tuesday @ Quiltstory.