For the Cotton and Steel mini quilt swap, I used a pattern called "True North" by Peta @ She Quilts A Lot.
I met Peta this time last year when we did a workshop with Camille Roskelly of Thimbleblossoms when we were sitting at the same table together.
I thought the True North mini quilt pattern was perfect to fussy cut some of the prints from the C&S fabrics but I have slightly changed the original design to use a single piece of fabric for the points.
I quilted the mini in a simple cross hatch design through the Irish Chain elements of the quilt.
Another version of the block I made was used in a little zip pouch...
...with a mini Fancy Fox on the other side. I used one of the typewriters from the new C&S B&W collection for the label.
Just need to add in a few little extras and package this off to my partner.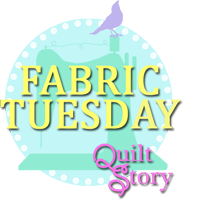 Linking up with Fabric Tuesday @
Quiltstory
.
Kirsten.