There are so many beautiful fabrics available these days and although I rarely make clothes, it was hard to resist using some of this lovely rayon to make a dress.
I chose the Anna Maria Horner Painted Portrait Blouse/Dress and made the sleeveless dress version with pockets.
One of the reason I don't tend to sew clothing is having to trace off pattern pieces from the flimsy paper but for the dress there were only a few that I needed.
To ensure I was cutting my special fabric correctly, I even made up a muslin beforehand to check sizing.
The dress came together well and the bias edging around the arms was quite easy to do and finished off the seams nicely.
It is still warm enough here to wear a sleeveless dress and I happen to have a cute wooden beaded necklace that matches it well:)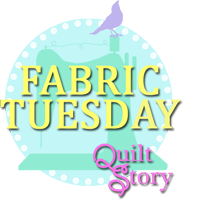 Linking up with Fabric Tuesday @ Quiltstory.
This was on my FAL Q1 list for this year so linking up with the 2016 FAL team.