Last weekend I went to the Far North Coast Crafters group get-together for a wonderful day of crafting, chatting and some very tasty food. I took my scrapbooking supplies along in my newly finished Super tote bag.
Although this is already quite a large bag, I ended making outer pockets on both sides so that I could fit even more in.
For the front pocket of the bag,
I made a scrappy Swoon block which I downsized to about 12", and then did a simple strip of prints across the back pocket which I remembered seeing Courtney do in the last Sew Sew Modern swap.
This bag is made entirely of Bonnie and Camille fabrics, except for the lining which is a pretty aqua blue, and the
red denim which I used for the gusset, straps and inside gathered pocket as it matched perfectly with the colours of the fabrics.
The aqua scallop print from Ruby is one of my favourite prints so I used it
for the zip bridge.
I stayed back with one of the group members whilst she
waited for her daughter to pick her up and she convinced me to have a few photos taken as well.
Only a few more sleeps now until the much anticipated Camille Roskelley workshop at TQES and I also can't wait to catch up with some lovely quilty friends from Brisbane while I am there as well!!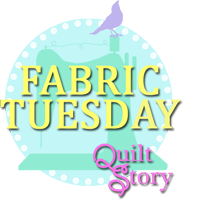 Linking to Fabric Tuesday at Quiltstory.
Kirsten.