My partner in the SSM4 swap has received her parcel so I can now share a few more photos of what I sent.
After spotting some of
Martha Negleys lovely feathers fabric on my partners blog, I decided to use it as the main print for the bag, along with a pieced AMH feather for the front pocket.
She also enjoys doing knitting and crochet so I made a little crochet hook roll up to carry around her hooks.
And because my partner's blog has a bit of a "mushroom " theme, I used a couple of cute aqua and red fabrics with mushroom prints to make the roll up.
As you can see from her Instagram photo above, she has already filled the roll up with her collection of crochet hooks - maybe I should have made it a little longer:)
The final mailing date for the
Sew Sew Modern swap
is Monday 10th February so I am sure there will soon be lots of fab parcels making their way across the globe.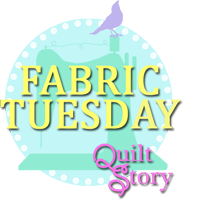 Linking up with Fabric Tuesday at Quiltstory .
And this is the first of my Q1 finishes for the FAL hosted by Katy at The Littlest Thistle.
Kirsten.